The band at Celtic Harmonies festival, 2015. Photo: Sylvain Lair
THE SIAMSA MONTRÉAL CÉILÍ BAND
Montreal's own Irish céilí band is made up mainly of present and former Siamsa teachers, with occasional star guests.
The band plays traditional and modern Irish dance tunes in an authentic céilí-band style, injecting into the tunes the lift and drive that dancers love.
We include "Montréal" in the name to dispel any possible confusion with the Siamsa Céilí Band that was well known in Ireland up to the 1960s.
Current members - 2023-2024 season
Steve Jones - leader, accordion
Kate Bevan-Baker, Sarah Crawford & Alexandra Ferraud - fiddles
Guillaume Riou & Philippe Murphy - flutes
Martine Billette & Marie-Christine Lance - piano
Fred Graham - drums
Richard Morgan - sound engineer
From time to time distinguished Irish musicians have sat in with the band, including veteran céilí band musicians from County Clare, Gearóid Ó hAllmhuráin and (on one memorable occasion!) Martin Hayes.
La Grande Rencontre, May 2011. Photo: Barbara Vogt
Very special guest at La Grande Rencontre. Photo: Marilyn Aitken, 2011
EN ATTENDANT...
En attendant... a 5-track EP recorded by the céilí band in 2022!
You can listen to all the tracks in this player, or click here to buy the music. Your support is greatly appreciated!
HISTORY
Origins
In the late 1980s a group of musicians led by Steve Jones, David Papazian and Jean Duval played for céilís organized by various Irish organizations in Montreal. Championed by Willy Fahy (who with his wife Anna has been a loyal supporter of Siamsa ceilis over the years) the group, despite a shifting membership, became known as the Montréal Céilí Band, and eventually played for the grand Friday night céilí at the 1992 North American convention of Comhaltas Ceoltoiri Éireann, held in Montreal.
The same group of musicians began playing for Siamsa céilís in the early 1990s. Membership remained fluid, rehearsals were utterly unknown, and yet the band always came through to provide great dance music. In the late-2000s, under the direction of Steve Jones, the band's sound moved closer to that of a traditional céilí band, with a rhythm section of piano and drums (Kelly Symons and Fred Graham respectively). More Siamsa teachers joined and (shock horror!) regular rehearsals were introduced.
Roll of honour
Here is a complete (as far as memory serves) list of all the musicians and callers who have appeared with the band, once or many times, since the early 1990s:
Alexandra Ferraud, Bernadette Short, Bill White, Bob Cussen, Brad Hurley, Brian Viens, Christophe Comte, David Papazian, Debbie Quigley, Dorothée Hogan (RIP), Emily Andrews, Ena O'Brien, Erin Cassidy, Finola Hackett, France Thibault, François-Xavier Dueymes, Fred Graham, Gareth Jones, Gearóid Ó hAllmhuráin, Gérard Morin, Gino Beaupré, Golo Goerner, Guillaume Métayer, Guy Berniquez, In-Ah Sophie Gagné, Jean Duval, Jessica Gal, Jocelyn Goerner, Kara Doyle, Karen Iny, Kate Bevan-Baker, Kelly Symons, Laurence Beaudry, Marc-Antoine Bérubé, Marie-Claire Saindon, Marjorie Deschamps, Martin Hayes, Martine Billette, Michael Callaghan (RIP), Michel A. Roy, Patrick Hutchinson, Paul Legrand, Peter Senn, Philippe Murphy, Rebecca Christie, Richard Morgan, Robert Leonard, Sarah Burnell, Sarah Crawford, Sarah Frank, Sheila Brown (RIP), Sheila McGovern, Steve Jones, Théo Baumard, Thomas Brenneur, Tiarnán Ó hAllmhuráin, Willie Kelly, Yaëlle Azoulay, Yann Falquet.
PHOTO ALBUM
Bill White and the Siamsa Céilí Band (augmented with members of Irish band Comas)
playing at a special "Veillée Québec-Irlande" at La Grande Rencontre Festival on May 9, 2015.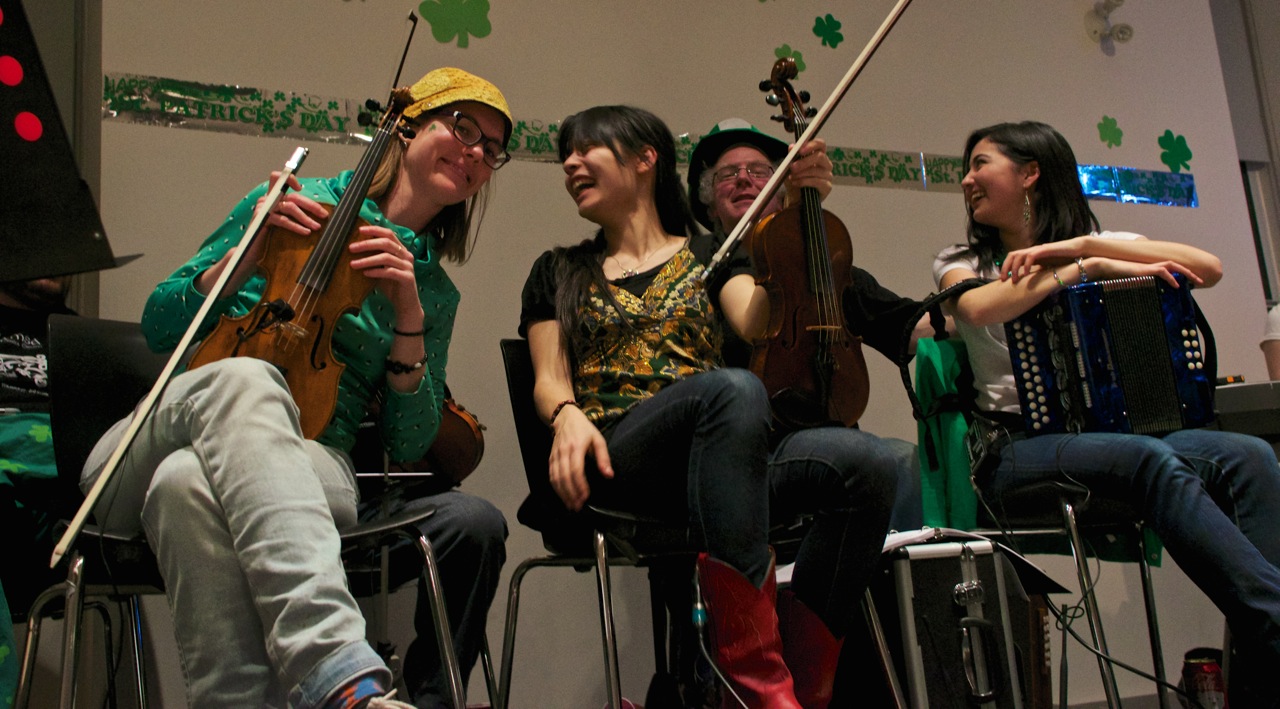 St Patrick's céilí 2013. Photo: Brad Hurley
Our ritual pre-céilí meal at Villa du Souvlaki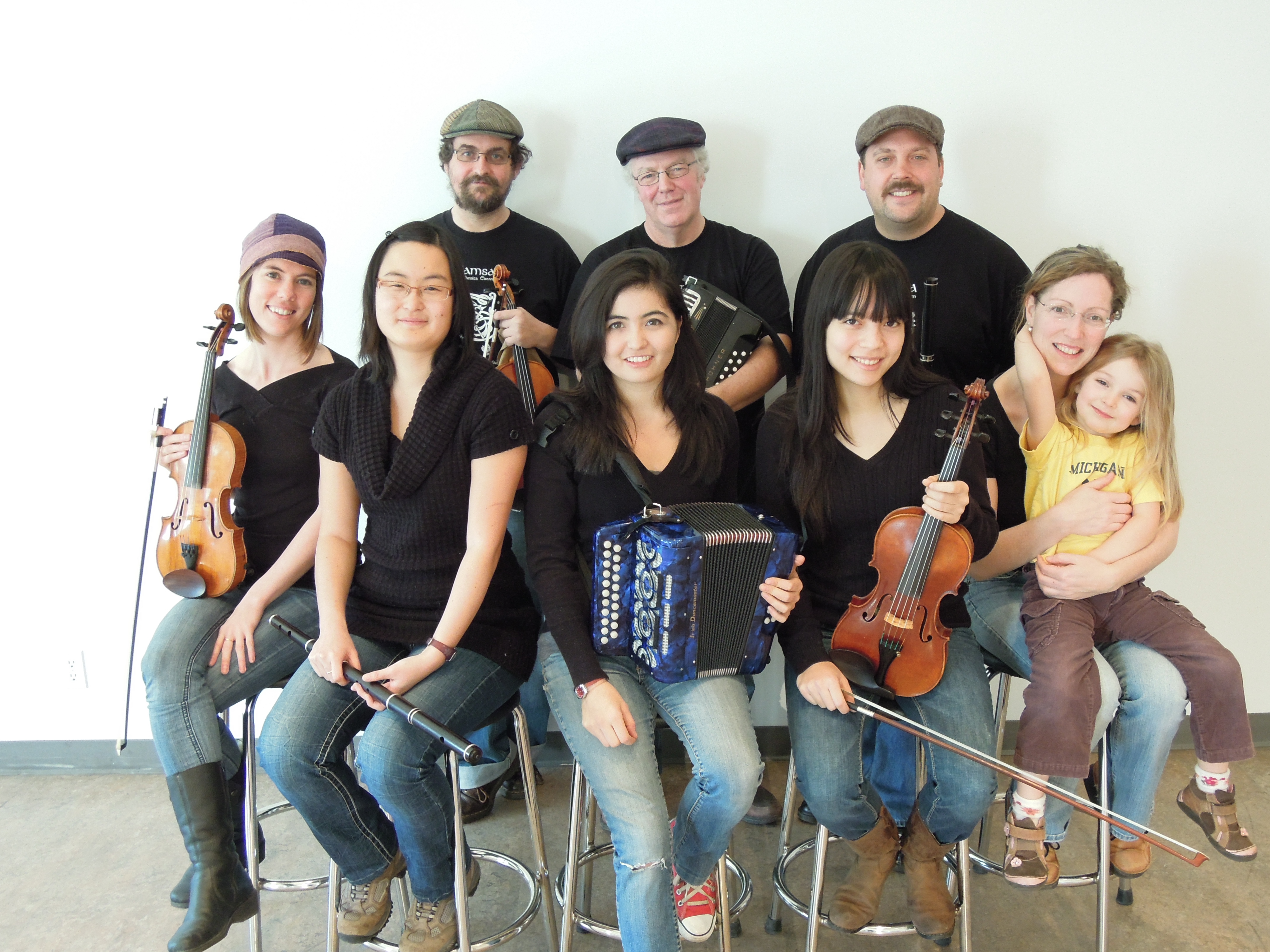 The band in 2012. Photo: Caroline Wathier